In the operating room, every little detail matters. An infected scalpel, a missing pair of scissors, insufficient overhead light and other seemingly minute scenarios can have a major impact on patient health – and that's where the role of surgical technologists, or "surg techs" come in in healthcare.
Surg techs help ensure all elements work together in harmony in the OR for a successful procedure. As such, being a surg tech can be an incredibly rewarding career path for those interested in the healthcare field.
Let's take a closer look at the role of surg techs in healthcare:
What do surgical technologists do?
Surgical technologists have important responsibilities before, during and after a procedure.
Before the surgery
Surg techs enter the OR ahead of time to make sure it is thoroughly prepared for the impending procedure. A major duty is checking that all surfaces, tools, devices and scrubs have been sterilized. This is to eliminate the risk that the patient develops any healthcare-associated infections, or HAIs. These infections are a danger to patients and can be life-threatening.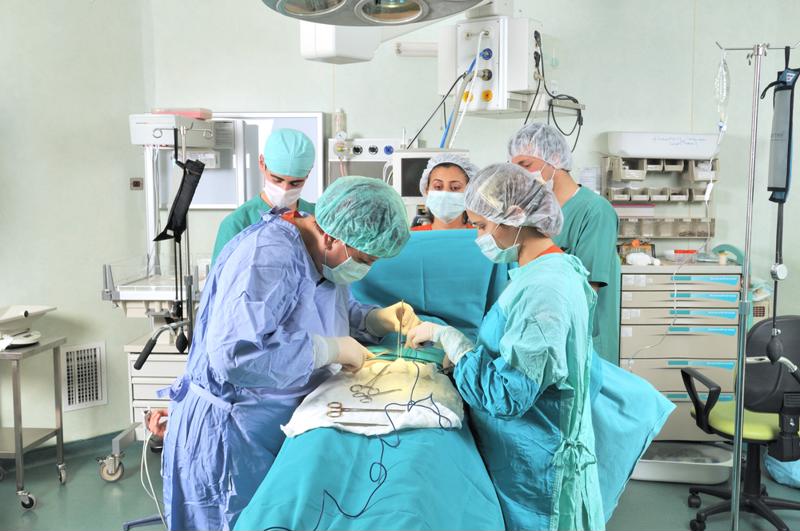 Healthcare professionals have made great strides in reducing the incidence of HAIs, however there is still a risk to patients. According to the Centers for Disease Control and Prevention, there were an estimated 722,000 HAIs in acute care hospitals in 2011, the most recent time the CD conducted a national survey on the topic.
Surg techs make sure the OR is completely sterilized prior to the procedure. Once the surgeon and nurses arrive, they help them and any other staff members secure and sterilize their scrubs and mask.
Another important preparation is reading about the upcoming procedure and arranging all the tools and other items the surgeon will need. The surg tech should note whether the surgeon is right or left handed and arrange the tools appropriately.
During the surgery
During the procedure, surg techs effectively function as the surgeon's "third hand." They stand alongside the surgeon at the operating table and hand them any tools or devices that they need. They shine light on the operation, hold tools in place and adjust sutures. During a surgery, every second counts, and good surg techs anticipate what the surgeon will need next to minimize delays.
While the procedure is taking place, surg techs count the instruments and sponges that are used inside a patient. Keeping track of this information is vital to ensure items are not forgotten and left behind in the patient once the surgery is complete.
After the surgery
Once the surgery is finished, the surg tech puts all items back in their place in the OR and sterilizes items for the next procedure. Depending on the setting, she may bring the tools and devices to the sterilizing specialists for additional cleaning. The surg tech also makes sure the area is organized and begin new preparations if another procedure is scheduled next.
What types of settings do surgical technologists work in?
Surg techs most commonly work in the operating rooms of hospitals. However, as the Cleveland Clinic noted, they may also work in private surgical facilities, outpatient clinics, dental offices and organ donation organizations.
Like travel nurses and therapists, surg techs also have the opportunity to travel and work at different hospitals throughout the country. This arrangement gives them the freedom to shape their careers while exploring new environments and learning in different care settings. The Cleveland Clinic shared the experiences of one travel surgical technologist, Yvette, who started her career in North Carolina.
"Surg techs also have the opportunity to travel and work at different hospitals throughout the country."
"The excitement of traveling to other hospitals across the United States gave me the opportunity to see a variety of procedures and many different techniques," wrote Yvette.
Able to jump from one care setting to another, travel surg techs can enjoy diverse and flexible careers.
What experience is needed to become a surgical technologist?
Most surgical technologists attend an educational program, whether community college, an associate's degree program or a vocational school, and then receive their certification.
According to the Cleveland Clinic, the current trend in the field is to graduate from an accredited surgical technology program and then pass the Certified Surgical Technologist exam administered by the National Board of Surgical Technology and Surgical Assisting.
Many individuals have long, rewarding careers as surgical technologists. However, there is also the option to become a surgical assistant. Though they share many of the same roles, generally a surgical assistant may have a more direct hand in the operation, for example, harvesting surgical grafts, closing incisions and providing hemostasis, the Mayo Clinic explained. Additional certification and schooling is typically needed to become a surgical assistant.
What skills are needed to be a surgical technologist?
Surgical technologists should be highly organized individuals that have a thorough and wide-reaching technical understanding of many different types of surgical procedures. They should be intuitive individuals, able to anticipate the surgeon's next move and which tools they may need. Surg techs should also be very detail-oriented, able to perform well and focus in high-pressure, high-risk situations. They must also be effective communicators, able to convey critical information concisely but clearly to others, as well as team players who can optimally perform their roles while functioning seamlessly with others.
Working as a surgical technologist can be a richly rewarding career path in the healthcare field. Contact the medical staffing experts at Aureus Medical Group today to find your ideal travel surg tech position.